Inspiration Happens Here: Inspiring One Million Healthy, Happy Vegans. Let's Move the Needle!
PETER GOLDSTEIN, FOUNDER weDIDit.Health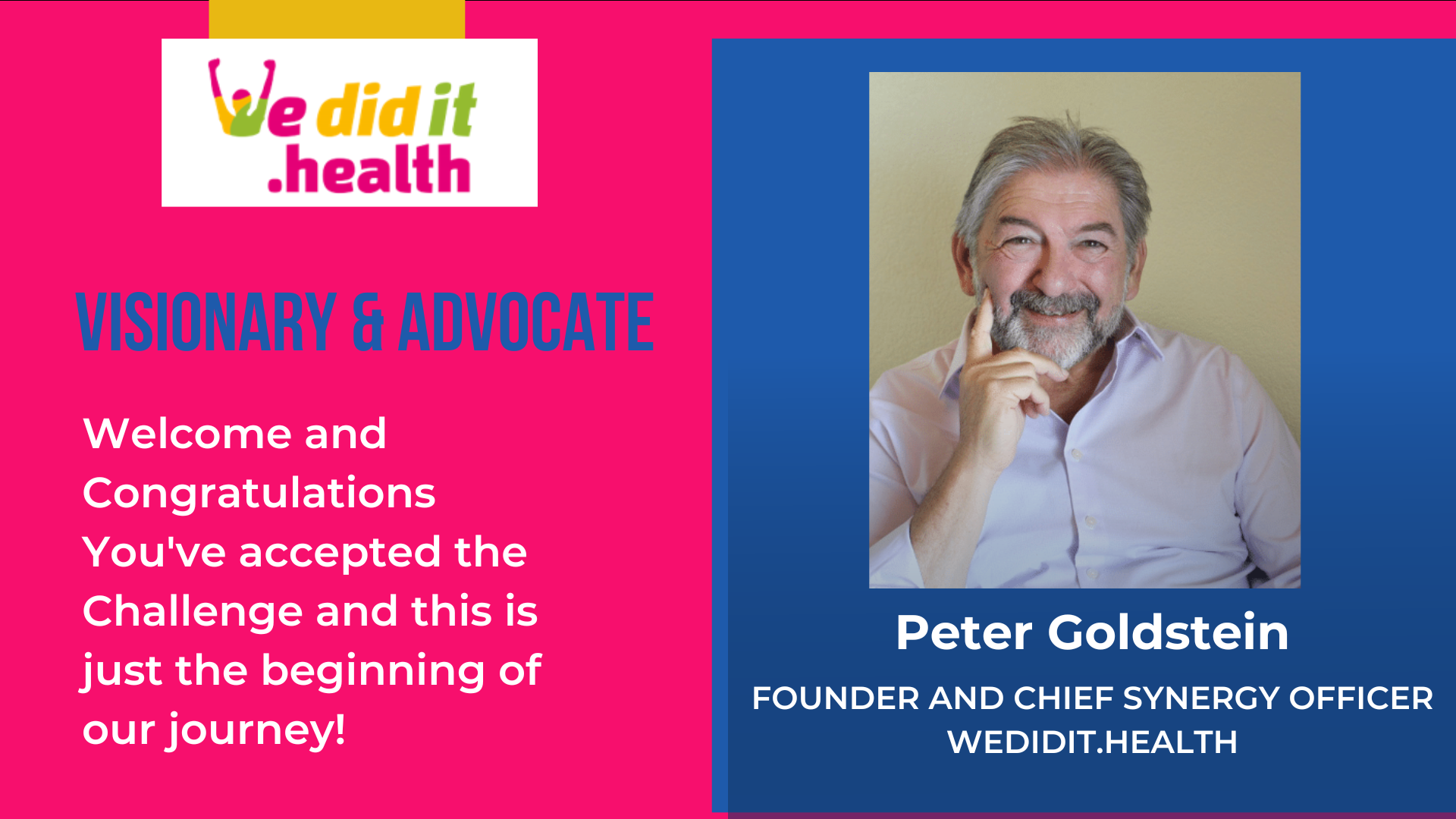 Inspiring One Million Healthy, Happy Vegans.
Let's Move the Needle!
Has your life been transformed by the power of a plant-based diet? If so, you are part of a growing movement of people who have experienced the personal and collective benefits of eating compassionately and sustainably.
And, you've probably experienced pushback when you talk to others about the benefits of plant-based eating and are likely frustrated when they give excuses to avoid making the switch. Or, you wonder why your friends, family, and co-workers cannot seem to move past the old ways that could be leading them to disease and suffering. Whether it is the decline of one's health, unspeakable treatment of factory-farmed animals and animal testing, or damage to the environment and our climate crisis, you likely feel a sense of urgency to inspire others to adopt a healthy, plant-based diet void of ALL animal and dairy.
These are the reasons weDIDit.Health has put together the Plant-Based Grassroots Ambassador Certification Training Program.
What is a weDIDit.Health Grassroots Ambassador?
WeDIDit.Health Grassroots Ambassadors are practitioners of a healthy vegan lifestyle and are eager to inspire others to explore the benefits of plant-based eating.

Grassroots Ambassadors are passionate about what it means to live a compassionate, aligned, and healthy vegan lifestyle and want to shout it from the rooftops.

Grassroots Ambassadors are lifelong learners eager to find effective ways to communicate the benefits of a plant-based diet.
Anyone—regardless of age, income level, job title, or location—can complete this unique Plant-Based Grassroots Certification Program. After completion, all Ambassadors receive credentials to post proudly on their website and social media, frame to display on their office wall, and to share with their community.

By working together, we will have more reach and more powerful results than if we go it alone. This is the foundational value of everyone at weDIDit.Health. With the official certification, you will be even more empowered as a leader in the vegan and whole food, plant-based movements.
Learn from Experts
For the Certification Program, you will learn from leading experts in the three primary areas of impact:
Human Health

Animal Welfare

Climate Healing
These experts share best practices that will enable you to better inspire others toward exploring the vegan and whole food, plant-based lifestyles.
Requirements to Complete Certification
For the Certification Program, you will:
[1] Watch video presentations in the Teachable course, taking notes as desired.
[2] Read the e-book 7 Best Practices to Inspire Your Loved Ones to Go Plant-Based, available in the Teachable course.
[3] Read the Grassroots Ambassador Certification Workbook, available in the Teachable course.
[4] Submit written workbook exercises in the Google Forms that accompany each workbook chapter.
After completion, you will receive an email with your credentials (badge, etc.), a link to your press template and resources, and your Certificate of Completion - Certified Plant-Based Vegan Grassroots Ambassador.
Membership Rollout
The secure weDIDit.Health membership portal will have resources for you to access, including private video and audio trainings, replays of interviews with leading experts, doctors, nutritionists, and more.
By enrolling in the Certification Program, you receive three free months--our gift to you!
PETER GOLDSTEIN is former CEO of a technology and software systems company and a lifelong advocate of personal power and conscious business practices.
Over the past decade, he's been tracking a mounting body of evidence demonstrating how, by simply adopting a food-based lifestyle, we can save as much as 75% of healthcare costs and eliminate the associated human pain and suffering.
As founder of weDIDit.health, Peter is dedicated to changing that calculation. His personal mission is aligned with the weDIDit.Health mission--to inspire one million people to live as healthy, happy vegans.
Complete and Continue